A woman named Evita is the former first lady of Argentina,Eva Peron. I once read a book about her legendary life. Evita starts out as a poor, destitute woman and through hard work and a touch of good fortune she works her way into the heart of Peron. They are soon married, and Evita starts her amazing story. The movie Evita(1996) is her whole life story of 95% real.

Poster of Evita(1996)
T his film starts from the end and then goes from beginning to end. It shows how she went to Buenos Aires with a tango singer. It shows hows Eva took on lovers to get jobs, and even helped her husband, who is played by Jonathan Pryce, get the presidency for 2 terms. She and her husband did have 2 weddings, one was in a church and one was a civil ceremony. Eva also traveled while she was first lady. She got woman the right to vote. She also did start a foundation. She did help build houses, hopitals, and schools. When her husband went for his 2nd term as president, the people rallied for her to be vice-president. Eva Peron did had many Christain Dior, over 100 furs, and a jewelry collection comparable to Cleopatra's. Sadly, Evita died when she was just 33, of uterine cancer.
T he movie is splendid and won five Oscar and manay other Awards in 1996. The acting is generally excellent, particularly from Madonna. It's beautifully photographed. The music is usually very well done, with great singing. The most critical tipic is about the title actress, Madonna. But more and more viewers have to admit that Madonna actually did a fine job considering the fact that she had to play someone so young and then so sick, both might have been "stretches". Furthermore, the resonances between Madonna's life and Eva's rise to fame gave an added frisson to her performance.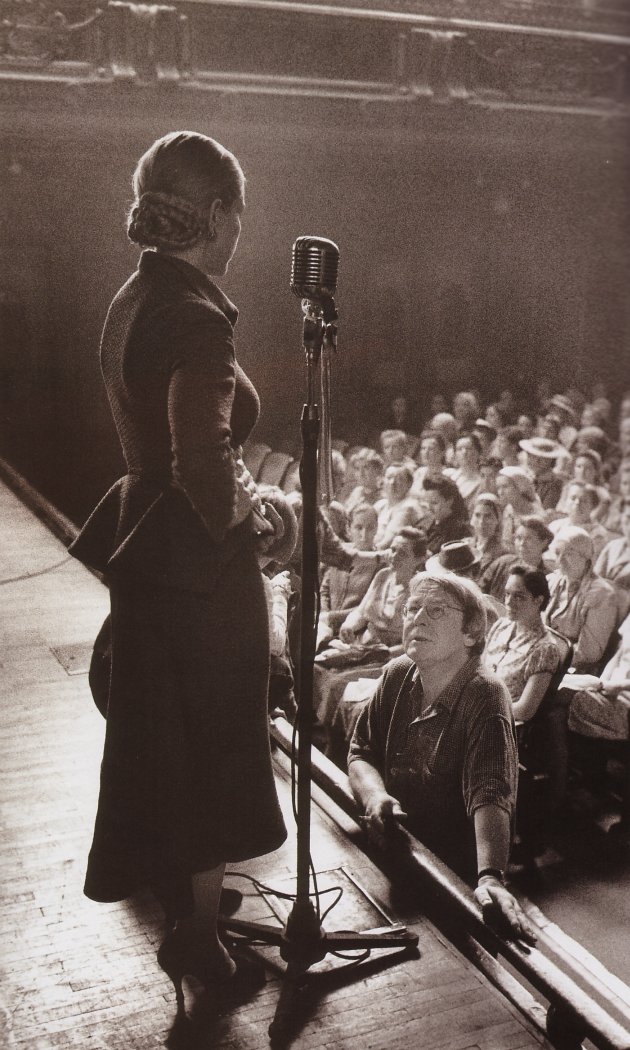 from the reviews of Amazon

Both raised in VERY Roman Catholic environments they rebelled against

15 year old Eva runs off to Buenos Aires/17 year old Madonna dashes off to New York - both against the concerns of parents
Eva began as a radio and stage show actress/Madonna as a dancer and somewhat professional club kid
Eva went from zero to Frist Lady/Madonna went from semi-homeless street urchin to Reigning Queen of the Pop World
Both have legions of fans who love her, and their critics who don't. There is no middle ground to the reactions they stir
Eva and Madonna both lived out the line "you were just a backstreet girl, hustling and fighting, scratching and biting. High Flying Adored. Did you believe in your wildset moments ... all this would be yours? That you'd become the Lady of them All
Eva went from poor illegitimate fatherless child to the cover of time at 26/Madonna went from working class motherless daughter to the cover of Time also at 26
Both looked stunning in designer clothes
And ultimatley ... both are self-made, calculating, and aimed for the stars with a fire in their belly and becamein their own right .... one of the most powerful women of their time ... all before turning a mere 27.

Besides, what can be said about the movie is its genius music of Webber's great triumphs and so very typical of his work. It is beautiful, stirring, moving, enchanting and memorable. Who can forget the haunting, plaintive refrain of "Don't Cry for Me, Argentina" or the gorgeous simplicity of "You Must Love Me"? While Madonna's voice would not fill up a concert hall or take her by itself to the Broadway stage, she does an outstanding job with Webber's songs. She did not have a weak voice, she merely used softer dynamics to create a smoother more melancholy tone.
Let's enjoy the music "You Must Love Me".

You Must Love Me

Download Full Song
Where do we go from here?
This isn't where we intended to be
We had it all, you believed in me
I believed in you
Certainties disappear
What do we do for our dream to survive?
How do we keep all our passions alive,
As we used to do?
Deep in my heart I'm concealing
Things that I'm longing to say
Scared to confess what I'm feeling
Frightened you'll slip away
You must love me
You must love me
(music)
Why are you at my side?
How can I be any use to you now?
Give me a chance and I'll let you see how
Nothing has changed

Today is a celebrating day, because it is the birthday of CCP. And a more important reason for our two to remember is that two sigle persons will tied by something called love. The song is also for each other, you must love me, forever.